Prosthetic management for an array of sports and recreational activities
Helping you stay active and do the things you love through advanced prosthetic technology.
oapl can specifically design upper and lower limb prosthetic devices so you can enjoy the sporting and recreational activities you love. Our aim is to empower you to live actively and independently, and support you to reach your goals and ambitions now and in the future.
These can include:
Running and jogging blades – providing improved energy return and flexibility compared to traditional prosthetic feet
Cycling legs – specifically designed to provide greater knee motion and optimised alignment
Wet prostheses – for accessing pools, lakes, beaches or fishing
Swimming prostheses – to improve motion through the water
Upper limb prostheses – can be fitted with a variety of activity-specific attachments to allow users to participate in weight lifting, golf, ball sports, gymnastics and lots more.
Benefits of Sports and Recreation with Oapl
Personalised Support
We understand that each limb difference is unique! Our prosthetists are dedicated to individualising our approach to your sporting and recreational ambitions.
Advanced Prosthetics
Product development is in our DNA! You'll always have access to the latest prosthetic technology to help you achieve your sporting goals.
Experienced Team
Collectively, our national team of prosthetists have hundreds of years' experience providing complex prosthetic services for all ages.
Specialist Expertise
Our prosthetists are tertiary qualified specialists in their field; backed by years of training, education and practical experience.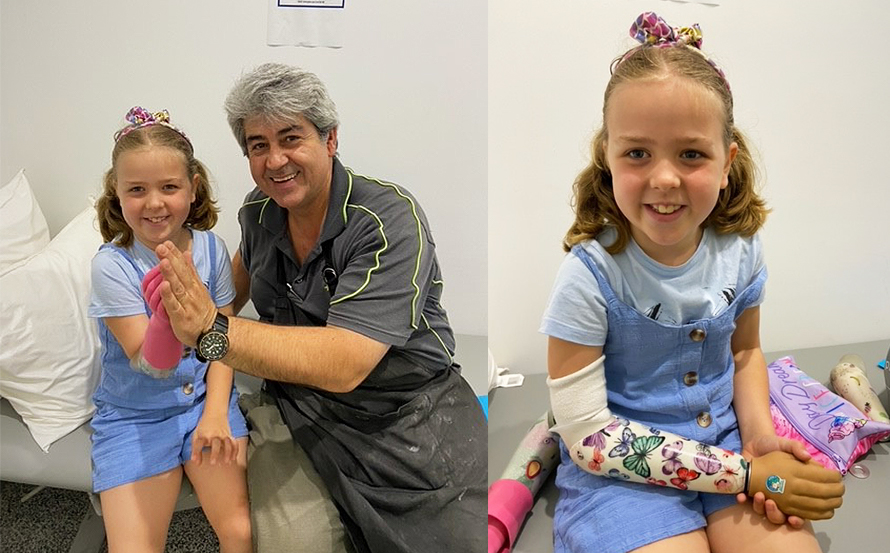 My 8 year old daughter describes going to oapl as "where dreams come true". They offer us constant support and they always put my daughter's needs first. I couldn't recommend them more, they have become an integral part of my daughter's journey in using prosthetic arms.
Valerie
Frequently asked Sports and Recreation questions
What is the difference between an everyday and wet prosthesis?
A wet prosthesis is designed with non-corrosive components that are suitable for wet areas i.e a swimming leg.
Additional modifications can be made for specific wet activities as needed.
Can I wear a running leg for day to day use?
Many prosthetic feet now utilise a long carbon strut with an incorporated heel. This enables users to wear the prosthesis for both sports and everyday use.
Why can't I use my everyday leg for cycling?
Most below knee amputees find their everyday prosthesis limits knee flexion and makes cycling very difficult.
Cycling prosthetics can be similar to your everyday leg with a prosthetic foot and lower back, or can be custom designed with a built-in cleat for the more serious cyclists.
What modifications would be beneficial for golf or ball sports?
Golf and the majority of ball sports require twisting motions not required in standard walking.
Torsion adaptors can be incorporated into the prosthetic design to allow the motion and improve your performance!
What sort of activities can I use an upper limb prosthetic limb for?
Almost anything! Your prosthetist will work with you to find the optimal prosthetic design, swimming, basketball, weight lifting, gymnastics, golf, gardening, biking, the options are endless!