Specialists in upper and lower limb paediatric prosthetics
Helping kids run, jump and play without limitation
At oapl, we aim to provide a supportive and encouraging environment to help your child flourish as they adapt to living with a prosthesis. At such a young age, we understand the challenges and hurdles our little ones can face and how important it is to have a prosthetic team you can rely on.
We specialise in all upper and lower limb prosthetic management and have the largest team of prosthetists in Australia. As part of your child's journey with a prosthesis, we aim to build long term relationships where we can tailor prosthetic programs designed to help children reach their full potential.
Many children will choose their favourite cartoon character, football team or artwork to personalise their prosthesis – we support kids to bring their creative imaginations to life! Whatever your child's ambitions, our clinical team is here to make them a reality.
Benefits of Paediatric Prosthetics with Oapl
Personalised Support
We understand that each child is different. Our prosthetists are dedicated to individualising our approach to your children's needs.
Advanced Prosthetics
Your children will always have access to the latest prosthetic technology to help them excel both now and in the future.
Experienced Team
Collectively, our national team of prosthetists have hundreds of years' experience providing complex prosthetic services for paediatric conditions.
Specialist Expertise
Our prosthetists are tertiary qualified specialists in their field; backed by years of training, education and practical experience.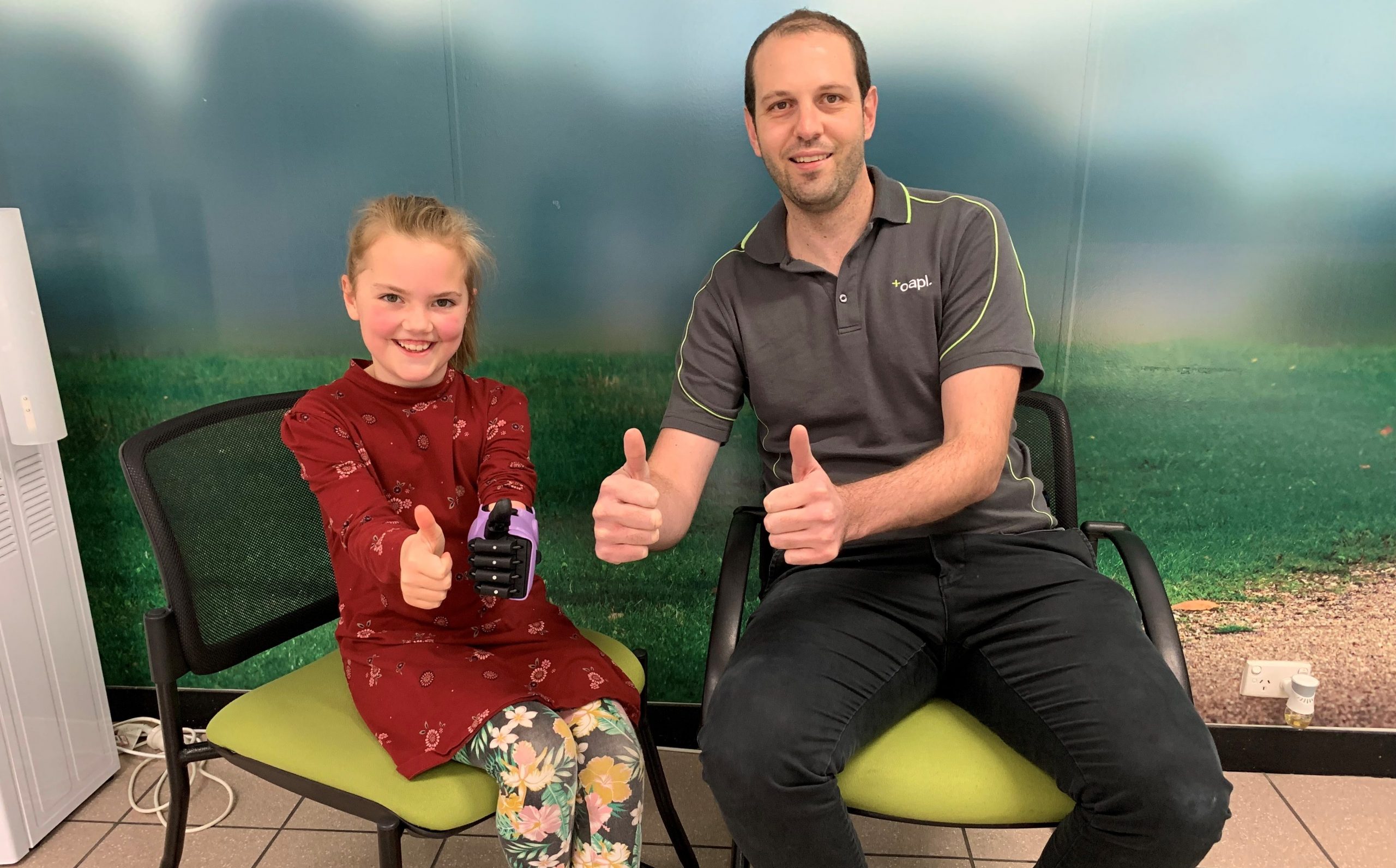 We love the oapl crew. Every aspect of the prosthetic is so easy with them. They always explain to Amelie what's going to happen next...The encouragement Amelie gets from Pat, Rich and the WHOLE office is amazing! Thanks team you do an an amazing job!
Amelie
The team at oapl Melbourne have been a great support to me over the last 10 years. Their expertise has helped me achieve sporting success at a high level, in both basketball and Football. Their continued support is invaluable.
Molly
Frequently asked Paediatric Prosthetics questions
How long will my child's prosthesis last before it needs to be replaced?
This can vary but on average you can expect your child's prosthesis to be replaced every 12 months.
Replacement of limbs can be due to growth, but also for structural reasons requiring replacement. In peak growth periods, a child may require 2 replacement prostheses per year.
How often should we attend appointments with our prosthetist?
It is good practice to attend at least 2 or 3 times per year for review, maintenance and adjustments.
Sometimes you don't plan for scheduled visits as circumstances in child management changes quickly requiring adjustments to the prosthesis for growth or repairs.
Will my child be able to participate in sports?
Absolutely! This is encouraged and an increasing number of children who wear prostheses participate in regular sport and higher everyday activities.
My child has an upper limb amputation. Are there many options available for different prosthetic activities?
Yes. There are numerous options which include cosmetic, passive, body-powered and myoelectric devices.
Depending on your child's age, the prosthetic devices available have improved over the years.
The devices available include everyday use, music, and sports & recreation. As your child becomes an adolescent/young adult, the options available increase as many of these devices are scaled to the mid-teens/adult age group.
Can my child's everyday prosthesis be used in the fresh and salt water?
It depends. If it has been manufactured using waterproof components, then yes.
Normally, most everyday prostheses are not used in salt or fresh water. However, funding is now more readily available which means waterproof prostheses are now more accessible than ever.